Los Angeles, California
We Collaboratively Create Social Justice Theatre, New Media, + Cultural Disruptions that Change the World.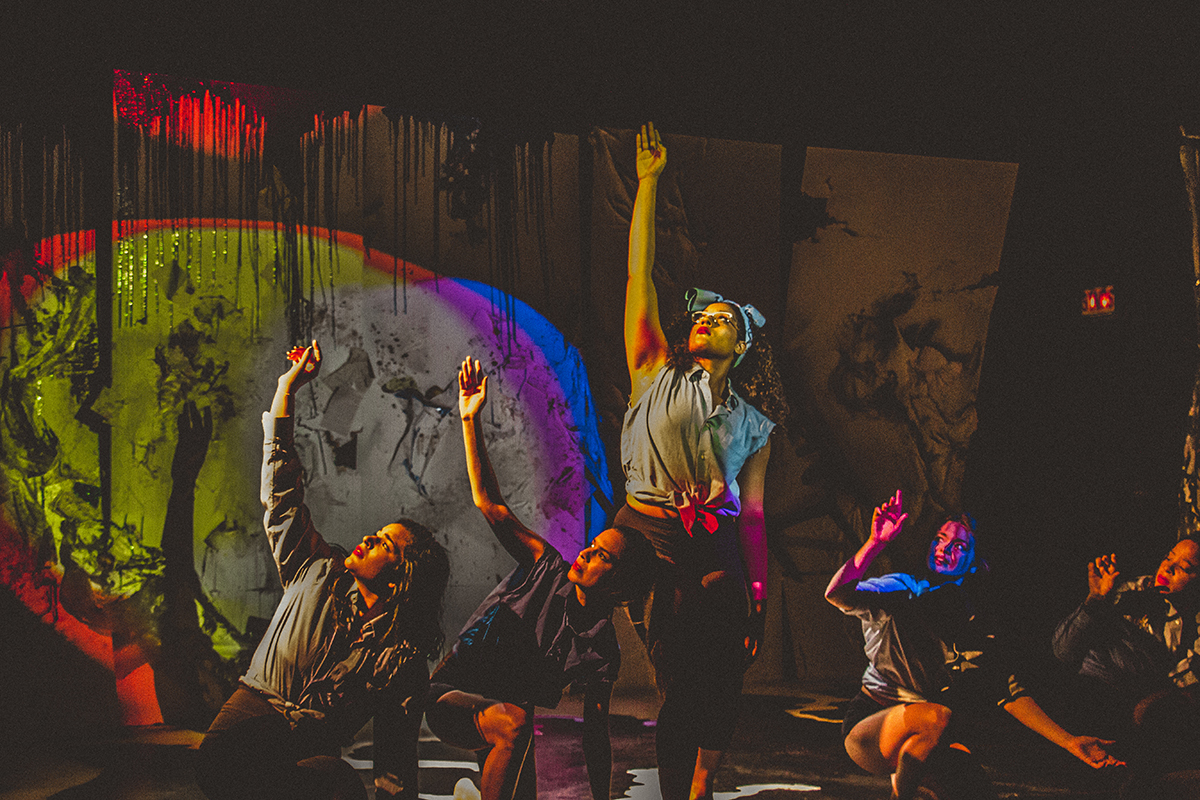 A New Regional Ensemble
Teatro Luna West
Teatro Luna is a national ensemble of Latina/x femmes and Women of Color and was founded in 2000 in Chicago. In 2014 we launched second ensemble, a Westcoast outpost started in Los Angeles as a radical experiment and new model in the American Theatre; an attempt to answer the needs we heard in cities all around the USA for liberated, intentional, brave spaces dedicated to artistic and physical exploration. We dreamed of centers for creativity that were free of the fear of failure, and equitably engineered for the organic development of Latinx and Womxn of Color artists, leaders, thinkers, and makers that value social justice and equity as an urgent need. These ensembles work togetherto create social change at home and around the world. Our next outpost will be on the east coast in 2020.
Find out more about who we are, and how to get involved. We are always looking to partner with non profits or social good organizations, and individuals looking to change the world for good.
Schedule of Events
Upcoming Shows & Events
We produce original performances that are developed and sometimes performed in Studio Luna (our performance laboratory studio space in Boyle Heights) and in residency at partner institutions all over the USA. Check out our schedule for all of our free and ticketed events, or browse our top upcoming performances and events below.
THE TIMES WORKSHOP WEEKENDS ANNOUNCED -
Back for only 5 performances Catch this brand new cast at Studio Luna April 20, 21, 27, and 28th.
THE TIMES is our newest theatrical, immersive experience and is the third play in our War On Women trilogy. While we get ready for tour you are able to book our show and workshops to come to your University or organization today! Find out more on our Touring page.
Don't miss the final two weekends of performance at Studio Luna April 20, 21, 27, and 28th before we head off for a summer development tour to Miami, New York, and the Dominican Republic in June and July 2019.
Movement for Joy Master Class Series with Ysaye McKeever
#TALKING WHILE FEMALE: STORYTELLING SESSIONS-Next Episodes at Studio Luna & in chicago:
Click here to asee full listing
#Talking While Female: Storytelling Sessions take place twice a month at Studio Luna, and is launching in Chicago on March 25th,2019. We are starting to work with more cities and if you are interested in hosting, hit us up here.
Stay tuned for Season 3 dates and themes- launching April 2019!
Join us at Studio Luna for a month of 3 Master Classes with our Chicago Ensemble Member and Choreographer, Ysaye McKeever who is spending March and April in Los Angeles. Each class is $10, but you will not be turned away if you cannot afford it! Let us know and we will find you a scholarship. All classes are open-level and will be a good fit for the beginner to the enthusiast! Classes at 9 am, 11 am and 8:30 pm. Link to schedule.
Beyoncé Joy Project- Thursdays 3/14 + 3/21 at 9 am and 8:30 pm; Thursday 3/28 at 9am
The Beyoncé Joy Project is an open-level, body-positive dance workshop a supportive space to dance outside yourself. "If we're going to heal, let it be glorious" - Beyoncé
Strengthen & Lengthen- Wednesdays 3/13, 3/20, 3/27, 4/3 at 9am
This class mixes cardio, strength and stretch to tone, build, and lengthen your muscles.
Woo-Sahh Wednesdays- 3/13, 3/20, 3/27, 4/3 at 11am
This is a mindfulness class combining meditation and light movement to tune your body and mind.
War On Women Trilogy - 2020
LAUGHTER- a new devised show about why How and what makes us laugh. Fall 2019
EleKTRA PROBLEMATICA- Fall 2019
To Be Titled - Theatre For Young Audiences Original Devised Production- Summer 2019
Jefa Talks- a traveling series of panels, dialogues, interviews and keynote speeches with the bossest, coolest Women of Color out there. March 2019- Monthly Series
LEARN WITH US
Retreats, Training, Master Classes
Learning is a lifelong pursuit and we believe that everyone has something to learn and something to teach. We offer a variety of forms to grow and gain new skills from collaboration methodologies to creative renewal and leadership retreats, writing master classes, and creator and performer training. We also offer labs for directors, producers, and fellowship opportunities.
Creative Renewal Retreats
Reinvigorate and grow with our range of targeted experiences. All of our retreats and creative renewal programs are built to ignite your creative expression and provide you with tools to activate the very baddest bad-ass you got in you've got in there. After 18 years of holding space for womxn to grow as humans, explore as artists, and create art for social change, we have learned a lot about how to best create spaces for personal transformation.
Physical Conditioning
Weekly training for the performing artist at Studio Luna. This physically rigorous, artist led 3 hour conditioning session will help you build strength, improve your response time, and enhance your coordination and ensemble skills.
First session is free and only $5 after that. For those who can't afford it can trade volunteer hours in exchange. Session leadership changes weekly.
Collaborative Creation
A creators workshop and collaboration intensive offered throughout the year for artists of all levels who are seeking to expand their aesthetic vocabulary, team-building skills, and creative impulse.
This is an application based program that requires a commitment to bring your best self and be open to a challenging shared-learning environment.
Luna Labs
Join a cohort of artists from a variety of disciplines who want to immerse themselves in their area of interest while also working with their cohort colleagues in professional application of craft alongside Teatro Luna artists in public workshops, readings, performances, and disruptions.
Playlab for writers, Directors Lab, and a Creative Producers Lab make their West Debut in 2019.
Welcome to our home in Los Angeles. This is our studio, our lab, our workshop space where we spend our time creating new work- things like plays, dances, solo-performances, film content, photos, a home where we host trainings and workshops, offer community services and events. We invite you to create here too.
Rentals and residencies available. Email us at info@teatroluna.org or check out our Peerspace.
Studio Luna by Teatro Luna West: a space for women of color to create without fear of failure.